4 self catering holiday cottages
Great Bodieve Farm Barns, Bodieve, Wadebridge, Cornwall PL27 6EG
Privacy Policy
This privacy policy sets out how we use any information that you give us when you use this website. We respect your privacy and we do not sell your information to third parties nor do we share your information with third parties for marketing or advertising purposes without your consent.
Information we collect
We collect information about you when you submit an enquiry using our Enquiry form and we use this information to deal with your enquiry.
We also collect information about you when you make a booking request and we use the information entered in our booking form to deal with your booking request.
When you submit a comment using our Visitors' Comment form, we may display your comment on our website but your name and email address are not displayed on the website unless you include these in the Comments field.
When you visit this website, we use a third-party service, Google Analytics, to collect standard internet log information and details of visitor behavior patterns. We do this to find out such things as the number of visitors to the various parts of the site. This information is only processed in a way that does not identify anyone. We do not make any attempt to find out the identities of those visiting our website.
How we use Cookies
Cookies are very small text files that are stored on your computer when you visit some websites.
Google Analytics uses cookies to collect information about how visitors use our website. We use the information to compile reports and to help us improve the website. The cookies collect information in an anonymous form, including the number of visitors to the website, where visitors have come to the website from and the pages they visited. Click here to read Google's overview of privacy and safeguarding data
You can disable any cookies already stored on your computer, but these may stop this website from functioning properly.
Links to other websites
We provide links to other websites from our own website. We have no control over such websites and are not responsible for the content of these websites. This Privacy Policy does not extend to your use of such websites. You are advised to read the privacy policy or statement of other websites prior to using them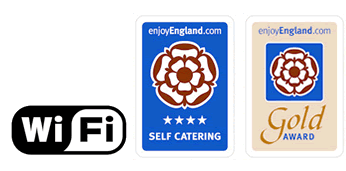 Great Bodieve Farm Barns, Bodieve, Wadebridge, Cornwall PL27 6EG